Turkish Sweets
Who did not hear about Turkish sweets and its unique taste. And who didn't wish to visit Turkey and get to know its wonderful dishes.
We are here trying to give you some information about the famous Turkish sweets and present them to you, but it is impossible to move the pleasure and the taste of eating one bite of Turkish sweets. So, read these lines and hurry to try Turkish sweets immediately.
Turkish sweets are known for their special blend of oriental and western style in a homogenous blend. It was also influenced by Circassian cuisine, Greek cuisine and of course Arabic cuisine. Not only that, but the transfer of types of Arab ornaments such as "Knaifa Nabulsi" but the preparation of it is completely different from the conventional Arab form, as varied from the city to another city in Turkey.
And now we will show you the most popular types of Turkish sweets at all.
Turkish delights (lokum tatlısı)
It is almost all tourists who come to Turkey will return to his/her own country with the various distinctive taste boxes of Turkish delights. There are more than 30 types of Turkish delicacies delights made for the first time in the 18th century. This delicious dessert became the favorite dessert of the Ottoman Sultan and did not take long to spread throughout the Ottoman Empire. Later there were attempts by the Europeans to make it more widespread and gave it its international name (Turkish delights)
It is a simple candy that is soft and chewable. Its ingredients are very simple. Starch water and lemon juice. But beyond this simplicity there is a wide range of broad varieties. Some people prefer the original taste of salts such as rosewater and mint, others prefer stuffed with pistachios or walnuts. The tasteful taste is also preferred by flavored palate and mint, but there is no doubt that all the species mentioned have become a wonderful guest of honor next to the morning cup of Turkish coffee.
Trileçe tatlısı: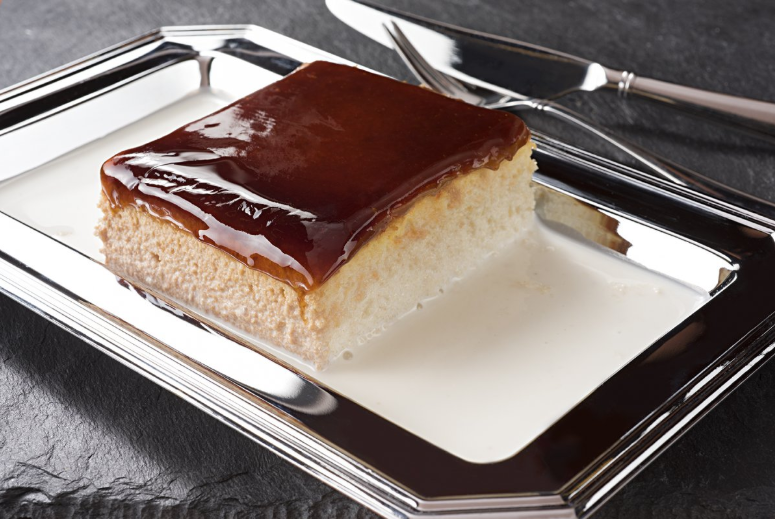 It is possible to come to mind some people who saw the Trlichi for the first time is just a kind of cake, it is very ordinary to the simplicity of its appearance, but once you taste one bite, you will surprise the taste which you did not taste such one in your life before. As you will ask yourself repeatedly about the secret of the taste of this cake. It is considered the most basic sweets of the Turkish House, which consists of eggs, sugar, flour and milk, of course, the three types of liquid milk, powdered and also heavy cream. The caricature of the Trilici is dated back to Albania but has gained widespread popularity in Turkey. If you pass through the streets of Turkey, you must experience its wonderful taste.
Irmik helvası:
It is considered one of the most famous traditional desserts in Turkey. The most characteristic of these sweet, is the availability of its components at home, as well as the ease and speed of preparation, consisting of semolina, milk, sugar, almonds or pine. Mix the ingredients with medium heat and adding some ice cream on the side, as desired. The Irmik is offered at holidays and religious events and is offered at the deceased's home after the funeral, where it is offered to those who come for condolences and distributed to neighbors as well. It is possible to present the Irmik in cold or hot sauce as well as with milk or even pistachios, but in all cases,  you will enjoy its great light taste.
Sütlaç Tatlısı:
Sutlach is not just a delicious dessert, but a painting that sugar layer in the oven on its surface in a way that gives the milk an appropriate color for the outer appearance of the dessert. Milk and rice are the most important components and fresh milk is the secret for the preparation of Sutlach best taste and slow stirring is another secret to prepare it. The ornaments are decorated with traditional pottery, which is decorated with raisins, nuts and cinnamon. It is known in the Arab countries as "Albahta" in Palestine, "rice in yogurt" in Egypt and Sudan, and in Tunisia "Mahlabia". In Syria it is called "rice with milk", whatever its name is, try its taste with Turkish flavor and savor its distinctive taste.